I can't believe that tomorrow is Thanksgiving. But, I am looking forward to sitting down with dinner with my family. We'll be traveling the 70 miles or so to my sisters house. There will be 6 kids and 10 adults so 16 total. A nice little crowd. Then on Saturday we'll be traveling again this time about 50 miles to my dh's brothers house. Not sure how many will be there but if everyone comes there should be around the same amount. There we're not having the traditional Thanksgiving dinner. I think the meat is suppose to be smoked brisket (that may have changed) and not sure about anything else but the potato salad that I am taking. Doesn't really matter, all that matters is being with those we love.
I only made one card this year for Thanksgiving. It got here before I knew it! And I hope to get in some time this weekend to start my Christmas crafts. Something I should have started already of course. I want to make a few small gifts for friends and I need to get those made so I can get them in the mail soon. But, anyway here is the card I made!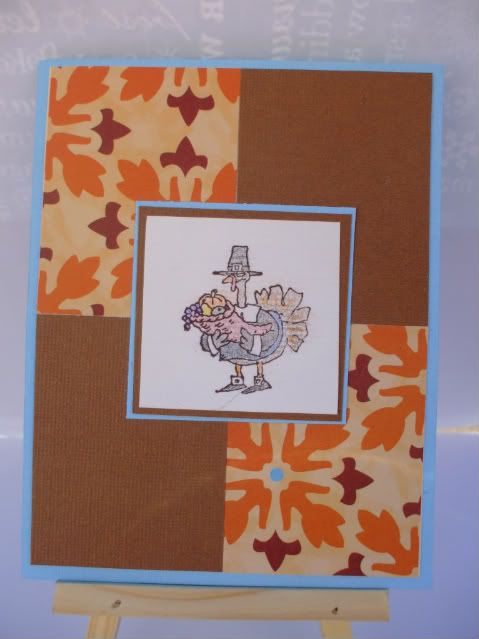 I got the stamped image in a swap last year so I don't know what it is. The paper is from Hobby Lobby, cardstock is DCWV and Bazzill.
Lets not forget to give thanks and remember our TROOPS along with their family and friends that give up so much for us.
American Thanksgiving

Thanksgiving is the holiday,
to God we give our thanks.
Thanks for founding fathers;
gave us our right to speak.
Thanks for all the blessings;
free travel and assembly.
Thanks to God for America;
free religious liberty.
Thanks for all our families;
of friendship, blood or faith.
Thanks for food that's plentiful;
we hunger not, nor thirst.
Then again to God our thanks;
Christ's death washed our sin.

by Roger W Hancock
Again I want to wish everyone a Happy (and yummy) Thanksgiving!!!