So, did you find a time to get that extra hour of sleep that we were to loose because we had to turn our clocks ahead over the weekend. We may have lost a hour of the weekend but I don't think we lost a hour of sleep at our house..we actually went to bed earlier than normal last night. I love the fact that we have an extra hour of day light now in the evenings…
Are there signs of Spring where you are??? With our warm weather last week we have flowers blooming all over, the pear trees are loaded with flowers, and I swear some of the trees are turning green..sad part is that it's going to turn cold again this week. Just hope that it doesn't freeze enough to kill things.
Here's a photo of some Spring in my yard with my cat Slim walking into the picture…followed by one of him in a box…silly kitty..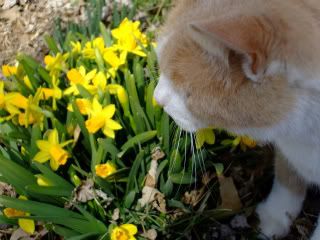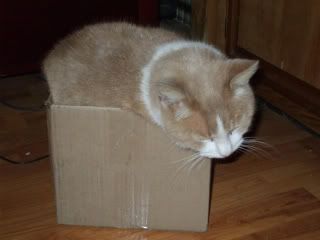 Okay, I was at Wal-Mart last weekend when I saw this awesome turtle for the yard. It was love at first site. But, I held back..didn't buy it..but then later in the week I came to face to face with it again..okay, not the same turtle because I was in a different Wal-Mart but the love was still there…still held off..and then this weekend I couldn't stand it any longer and in my cart it went.. It is huge! So, the 2nd picture shows just how big it is…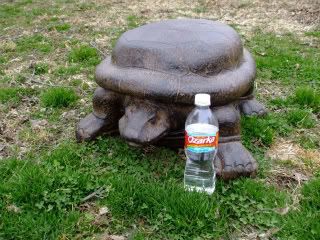 We were out and about this weekend..driving down the highway when all of a sudden this wonderful aroma came flooding through the car…It was just wonderful and sure sign of Spring being in the air. No it wasn't all the beautiful daffodils blooming along the roadside but the smell of freshly and I do mean freshly plowed soil! So, fresh the farmer was plowing the ground as we drove by. I love the smell..it reminds me of planting the veggie garden in my bare feet..my Mom was a believer in if the ground was warm enough for you to be barefoot in the garden then it was time to plant..if not then hold off…I'm sure it came from one of grandparetns and probably theirs before that.
Seeing a farmer plow, disk , plant and harvesting always makes me wonder what they are thinking while doing so. I can't imagine going to a great big field and seeing all that ground that you need to cover in the days or weeks ahead. It must be a great feel of accomplishment when one of the task are done. They must love what they do so to come back year after year. I'm sure most wouldn't want to be doing anything else.
Oh, I need to show you some cards that I have made recently for http://letsscrapdesignteam.blogspot.com/
Also please check out our online crop tomorrow…
http://letsscrapdivas.ning.com/
A couple are from last month..I never made it here to post them..but wanted to share them anyway..and here is the latest which should be posted on Lets Scrap DesignTeam Blog…
If you would like a chance to win some cool things please visit the blogs at the upper right here on my blog (if I figured out how to post them there anyway)...tell them I sent you too..
Well, I think that is enough of my ramblings for one time..thanks for stopping by and come back soon..
Hugs
T