That's what our weather has been this week..just like the weatherman said it would be. Copy one day and paste it to the next…With temps in the mid 80's, sunny skies with some clouds here and there…you know those big white fluffy kind…just doesn't get any better than this…Can't believe it's fall though…love fall…would love it more if winter didn't come right afterwards..but, that's hopefully 3 months away so I won't start complaining just yet…then comes spring!!!
Where did this week go...I saw something on TV where this was National Stay at Home Week...or something like that..Seems like we have been gone almost every night this week for one reason or another. So, I think we need a week called something else so maybe we can spend it at home. Still wanting to go camping one more time before it's too late..Hopefully, we'll get the chance.
Been out taking some pictures this week. Thought I would share one I took this afternoon of a grasshopper. I"ll save the spider for another day...
And something a little prettier...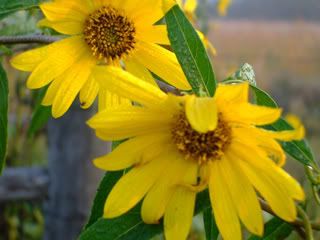 and something I did last week with my Cricut cartridge "Walk In My Garden"
Thanks for coming again...now, it's time for me to catch up with "Grey's Anatomy"...