I am SO SORRY!!!! That I haven't been back on here since the blog hop almost a month ago…No excuses…just didn't get back here…kept forgetting that I promised some blog candy..would remember when I was away from the computer…went camping for a week…uh…I guess I said no excuses…and there I go…making them…anyway…for those of you that visited my blog during the hop and were wondering about the blog candy I promised and if you won or not..with out further ado…I had my DH tell me a number between 1-72..which is where my count was at the time…and he picked 56…so the WINNER is…
Leah
…Leah's comment was
"I want to say that mine is family picnics at my Grandma Gigi's. She's now passed away, but I remember the special drinks and treats she would make then she'd give us sparklers to light off. We then as a family would go to our local state park for some fireworks. What a great ending to a fun filled day. I also remember Gigi's singing."
Thanks for the comment...
I do have to tell you although I didn't get back on here to announce a winner I did read each and everyone of the post…and so enjoyed reading them…they all brought back such great 4th or summer memories…I had forgotten all about sparklers for some reason this year..we always had those and how could I forget writing my name with one??? Or making stars and hearts??? I had also forgotten about one of my favorites and when we buy fireworks to shoot off here at the house..I still have to buy snakes! Oh…when I read this I almost went out and bought some..Chasing lightening bugs also brought up great memories..I still love to watch lightening bugs in the evenings…going to the lake was another fave although I never went to the lake for the 4th we did take camping trips and always enjoyed them..and for those of you that know me..know I still love to camp! Over all I think mostly what we all remember the most about the 4th or summer is that we spent it with family and friends…that's what counts in the end.
We just got back a couple a few days ago from spending a week on the lake a couple of miles from where my DH works..so..he still worked but enjoyed the 3 mile drive one verses the 60 miles he does normally …he even rode his bike a couple of days…while he worked I played.. I spent a couple of days with my sister who loves nearby one day my 2 nieces and 3 of grand nieces were also there so it was nice seeing them and catching up…I went shopping a couple of days and made 2 scrapbook stores along with Hobby Lobby..managed to get myself lost…actually I was just turned around…after calling my DH and not getting an answer I finally figured which way I needed to go..I was actually just trying to avoid getting on and off the expressway…Which I did…and where I had made my mistake was at the beginning..I haven't driven in this area by myself in years and it's really grown and boy do I need to pay more attention to my surroundings more when I'm not doing the driving…I also spent time with our dogs and did allot of walking…they are such "happy campers"…in the evenings we went fishing, walking visiting with a co-worker of my DH who was also camping…had my DH's brother,sis n law and nephew who also live nearby over for hotdogs and sausages..it was so nice to get away…and hopefully well get to do it another week soon…I tell ya I could spend the whole summer just "park hopping"...And I think it would be great fun to be a Park Host" when we retire...anyway...I better leave here before I bore you to death but I will leave you with some photos of the lake…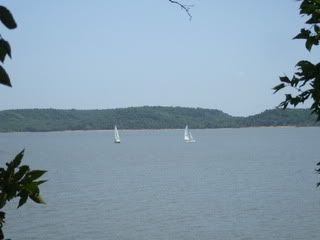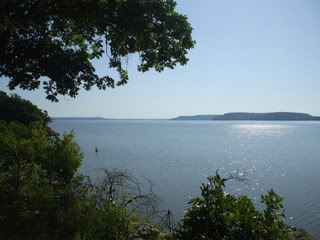 That last one was the view from where I was fishing...no luck in catching any fish but awww...that view was sooo relaxing...
Thanks for coming and again sorry about the delay in posting a winner...
Until next time..
Hugs and Blessings
T