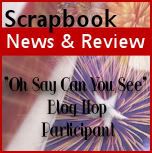 Happy 4th of July and a great big welcome to Scrapbook News and Review "Oh Say Can You See 4th of July Blog Hop". As I mentioned in my last post that I will have my blog in a hop..you can find the list of all the blogs involved here… http://snrcardiverse.ning.com/ . It will last till 10 pm CST Sunday night. You will get to feast your eyes on some wonderful "red, white and blue" projects on each blog. You will also have a chance for some blog candy on some of the blogs..including mine... So, if you are starting here then please go there next so you won't miss out on any of the talent. And if you are coming here from Sandi's blog www.twinklininkin.blogspot.com then that means you probably started at the top and are just amazed at all the talent you have seen so far..but it's not over so make sure you go to the Ceal's blog at
www.simplybeautifulcreations.blogspot.com.
Here is my card: I am letting it do double duty since I made it originally for my June DT assignment for http://letsscrapdesignteam.blogspot.com/.
I found this image online and just fell in love with and thought it would make a great card..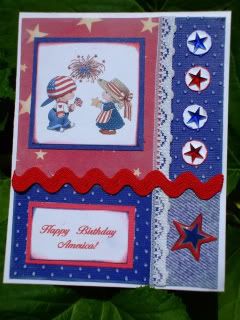 Cardstock- Blue Cordinations
White-GP
Paper-Stars-Karen Foster
Denim- The Paper Patch
Embossing-Cuttlebug Dotted Swiss
Glitter Stars- Darice
Star Sticker- K& Company
Rick Rack –Paper Studio
Lace-Unknown
Ink-Stampabilities
Sentiment-Computer-Cotillion Font
Image- http://www.webweaver.nu/clipart/4th-of-july.shtml
Do you have a favorite childhood 4th of July memory? One of mine would be when we were kids way, way back..pop wasn't something that we had very often...it was a treat to us..and one of the times we did get it was for the 4th. We also didn't go to a fireworks show or anything like that but we did have our own fireworks at home. Living in the country there was no rules or laws otherwise..So, we would go down to the grocery store where we would pick out our favorite pop..mine was Strawberry..back when it still came in 10 oz "glass" bottles...and also buy our fireworks all at the same time. My favorite fireworks were the little ting "snakes". You lit the end of a little round black "pill" size disk..it would puff up and grow like a snake...They still have them but they don't seem quite as big as they were when we were kids...I suppose nothing ever does..But, they do make great memories.
So, please leave me a comment telling me your favroite childhood memory for the 4th or just a summer time memory since I hope to have people from all over the world visiting my blog today...I'll have a drawing for my "blog candy" on Monday...
Thanks for visiting and I hope however you celebrate today that it creates a great memory!
Hugs
T