Okay, where did April, May and June run off to? Why do those 3 months seem to go faster than January, February and March??? Or is it just me? Because I LOVE Spring and could really do with out Winter…
Well, last week we had 100 plus degrees for 6 straight days..this week has been cooler..mid to upper 90's…but the humidty wasn't quite as bad..today it is trying it's hardest to rain..hopefully it will get it done..and it's cooler than it has been in quite awhile at this time of day..but it's not to last..if the clouds go through then it will be in the 90's by afternoon and it's suppose to be 100 again on the 4th…
Speaking of the 4th! Any plans? I don't think we have any this year..maybe just take it easy…For some reason our little bitty town holds the counties fireworks. They have had their own for years now but awhile back the larger town in the county that did hold fireworks display (is that what you call them?) was undergoing so construction work at the high school where they were held..so everyone came here to our little towns..more people donated to it etc..and the other town said they wouldn't be able to afford it or something along those lines..anyway…we live about a mile or so where they are held (if you cut across the pasture and not go the road) so we can sit out at the end of drive and watch. It's more relaxing that way..don't have to worry about finding a parking place nor a perfect seat...we have it...at the end of drive..
On the 4th I will be in on a huge "bloghop" called…"Oh Say Can You See" 4th of July Blog Hop and you can it starts from here…http://snrcardiverse.ning.com/. But, I will be back here early on the 4th posting more about it along with my "red, white and blue" project. There are about 95 blogs involved and each one will have a project to share..There will be a list of all the blogs at SNR/Card Universe and on each blog there will be a link to the next blog. So.."hop" on back here over the weekend and I will have a card to share…
My brother brought us some fresh yellow "grean beans" the other day..Oh, my! Next to potatoes green beans are my favorite veggie and fresh out of the garden beans are just hard to beat..add in some red potaoes and I am in heaven..so I was happy to finally feast on them last night...oh...I could make a meal on them..add some fresh garden tomatoes and you have a feast in my books..I love summer and it's fresh garden veggies..YUMMY!
I am going to try and download some photos from our camping trip to Roaring River State Park near Cassville, Mo way back in May..maybe things will cooperate for me this time…Isn't the river pretty? It's not huge or anything but it's just a peaceful place to be...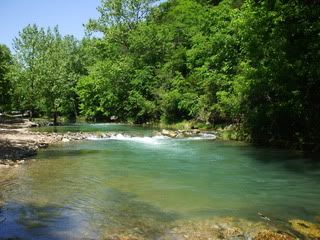 When got to the camp it ws full and we had to wait on our campsite to pack up and leave..of course they were one of the last to go..but by the next morning this is what it looked like in both directions...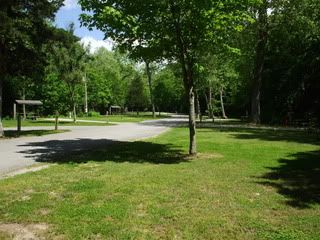 And here is our "baby" Gidget waiting on us to pack up..her sad look says it all....
Well, that is all for today..don't forget to come back over the weekend and check the bloghop out..until then enjoy whatever you love about summer the most..
Hugs
T