My last day at work last week was also that of my friend BT. She was leaving to go to another job. So, we had to have another party…cake, gifts, and a card…
Oh, my goodness was this cake ever beautiful and also yummy inside again. Another lady at work made this for her..she makes the most wonderful cakes. So, gorgeous and the colors she puts together are just too beautiful. This one had an Victorian look to it. The white was actually more of an antique white than it shows in the photo. Plus, underneath all of that were two layers of chocolate frosting…a light and dark..then she had white chocolate pieces thrown all over…oh, and the cake was also chocolate..a chocolate lovers dream...she really outdid herself…oh, was it ever so good…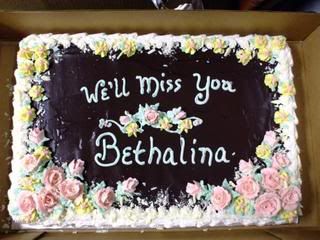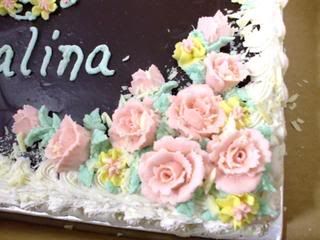 Then I made a card to go with the gift that I was elected to shop for…she is also my scrapbook/cardmaking friend so I was happy to shop for her. I couldn't find a gift bag that I liked (or wanted to give the price of) so I bought an 88 cent pink bag and decorated it to look like the card. I used my Walk in My Garden Cricut cartridge on both. Card stock was DCWV and the pearls were some I took off lace trim that I had in my stash.
Of course this week I had a cake withdrawal…and my clothes don't fit so good either so maybe it's a good thing there were no more parties and cakes this week. But, then some of that may be because this is October and Halloween is in two weeks and it's hard to resist the candy aisle...
Well, I thought I would get an early start of this today...It's still a little cool out for me this a.m. but the sun is shining about as bright as it can with the clear blue skies...Thank you God for sending us such a beautiful day.
Now, it's time to go get ready and do some grocery shopping. One of the stores is having it's 12 hour maga sale and there are some things on there I want this time. Otherwise, I try to stay away from grocery stores on the weekend. But, with these sales they always have extra help so it goes about as fast as a regular Saturday when they only have 1 or 2 cashiers..Thanks for coming!