Where did the time go? I can't believe it's been over 2 weeks since I took the time to sit down and write here…It's been one of those times when I could of used a "double" of myself…That might be a scary thought to some…I did get to work for 8 days and that was it..my boss wanted to keep me but her boss said they couldn't afford me..so that leaves that office with only one other gal other than my boss…She now has to do it all…what at one time took 4 full time. Granted they have laid off about 70 or so people since then but still yet there is over 170 people left...I was replaced my an automated phone system. Or that was the plan anyway…When I left last Friday it was still in the works…Not my problem anymore. Actually, it just wasn't the same as it once was. Several friends are gone, everyone is in a down mood all the time. Either because they don't know when the ax will fall on them or that they are now doing their work and that of at least one or two others. So, I was happy in one way to be leaving and sad in another…Who knows I may be going back yet.
Anyway! While I was there my friends BT & BH celebrated National Squirrel Awareness week with our friend R. I bet you didn't know there was such a week? And you are also asking why we celebrate this week? It all started a few years ago when R had some problems with squirrels in her drain pipes.. You know the kind that cost you some money to get fixed. So, being the good friends that we are we had to harass R about it…we would leave pictures of squirrels posted on her office door, changed her computer wallpaper to one with a squirrel, put a stuffed squirrel in a piece of PVC pipe and give to her as gift, send e-mails etc…And each year we would celebrate this week at least one day with such things…so, this year (isn't it weird that this was the week I was working there too?) we decided that we would kick it up a notch with a party in the lunch room. So, I made a card and some little paper acorns (that was spread in her office (by BH) from her desk to a filing cabinet to her computer etc) and BT had her Mom make a cake like the one she does at Christmas every year shaped like a log..who knew that it could be so much fun and tasty too. I had been taking my breaks with R since I had came back so she thought nothing of it when she walked in to the lunch room . Although she was a bit surprised when she saw the cake and card…Of course you know when there is chocolate involved that there will be more come to the party that planned…so what turned into a party of 3 was more like a dozen. She took it all in good spirits and couldn't believe we would go to so much trouble. Trouble? Never! It was fun…and besides what are friends for? And we plan to do it again next year no matter where we all might be…
Here is the picture of the cake…talk about YUMMY! A chocolate lovers dream. Followed by pictures of the card. I used my Cricut cartridge Stretch your Imagination for it. Card stock is Bazzill and paper is by Provo Craft.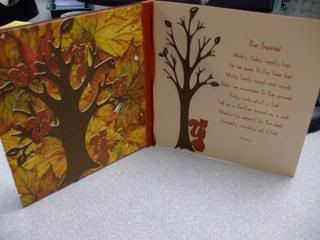 I have more to post but I will save it for another day..hopefully it won't be another 2 weeks plus before I do that.
I hope everyone is enjoying some beautiful fall weather. We dipped down into the 30's this morning which is way too cold for me..not sure if we also didn't have our first frost..but not the killing kind at least. Leaves are changing and it's just a wonderful time of the year weather wise...I hope also that everyone can get out and enjoy it this weekend. I plan to grab my camera, DH and enjoy it a bit myself.
Thanks again for coming!